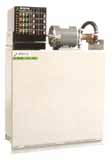 All fuel tanks offered are for use with diesel fuel, typically in conjunction with an engine generator or engine driven pump.
They are sometime referred to as "DAY TANKS" or "SUB-BASE TANKS"- when installed underneath engine itself.
These are available in a variety of configurations, shapes and styles. They can be supplied in UL listed, non UL listed, single or double wall style. In addition, trailers are available with or without tanks mounted on them. They have been used by major engine distributors and OEM's for numerous on and off road applications.
Many options can be furnished including single duplex pumps, level monitoring switches and alarms, remote fuel fill panels, fuel oil coolers, explosion-proof motors, and seismic construction.
UL-142 Listed, @ NFPA 37, Manual & Auto
Duplex Pump, Double-Wall, Micro-Processor/Laser Level Control