Exhaust Catalyst & SCR Systems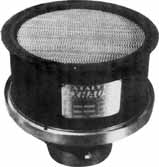 Since 1992, H. Ertel Inc. have assisted Off-Highway End Users, Construction & Power Generation Equipment Distributors & OEM's who need to comply with Local, State, ie. CARB & National EPA Exhaust Emission Regulations. These include EPA Tier 3, 4I, & 4 for New Engines; plus RICE/NESHAP Compliance for '2006 & Older Diesel & Spark Ignited Engines which are Not Used for Emergency Power.
Our solutions may be: Standard "Off the Shelf", 2-Way Oxidation Catalysts for Diesel Engines, or 3-Way Catalysts for Natural Gas & Propane; complete with Air-Fuel Ratio Controllers & other Accessories as required, also Combination Exhaust Silencer/Catalysts in Any Required Level of Attenuation and Degree of Emission Reduction; along with either Cylindrical, or Low Profile "Hockey Puck" or Rectangular Configuration.
Another option is Our Plant being sent OEM Muffler; then us quoting "Drop-In" replacement Catalyst with matching brackets and pipe section required to fit within same engine compartment and space envelope as original muffler was designed for and installed within. We have Hundreds of Kits already designed to fit the Major Construction Equipment Mfger's Skid-Steer Loaders, Excavators, Rollers, Graders, Generator Sets, Compressors, Etc.
Our Principals Will Guarantee the level of Exhaust Emission Reduction and Noise Attenuation—when given accurate breakdown of Engine Pollutant Levels to start with.
Custom designs with associated flexes and/ or elbows, plus Blankets if required are also available.
In addition, to meet Most Stringent EPA, CARB and other Exhaust Emission Standards on Diesel & Spark Ignited Engines up thru 4+ MW; we offer either Diesel Particulate Filter/SCR Kits or on Spark Ignited Engines, Oxidation Catalysts + SCR System. Both are specifically designed to meet whatever required Exhaust Emission Standard applies to jobsite; with Guaranteed Performance and Exacting Fit within whatever Space Envelope is available.
Below is a typical installation on 2 MW Caterpillar Generator Set:
Combination of Regulator™ and SCR units on CAT3516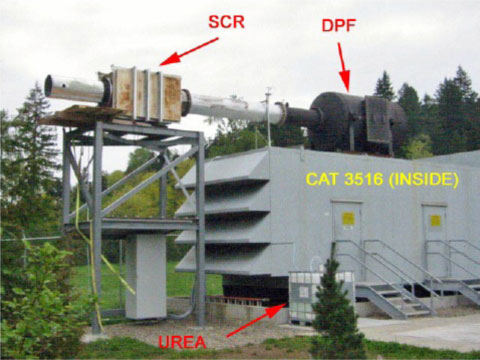 PGE Facility, Portland, OR. In operation since March 2007