Engine & Non-Engine Silencers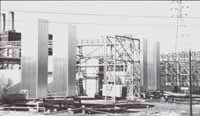 Since 1975, H. Ertel Inc. has been The Leader in Premium Sound Solutions on Engine-driven Power Units and Generator Sets; delivering Highest Degree of Attenuation in Most Compact Space Envelope, with Guaranteed Performance verified by Measurable Results!
We continue to offer Industrial, Residential, Critical, Super-Critical, Hospital-Plus & Extreme grade Engine Silencers—with Attenuation in 45-50 dBA Range if required. Standard and custom designs are available in 1″ up thru 30+" Exhaust Inlet Sizes, with either standard Male NPT, ANSI or DIN Flange, Flared, Cummins or Cat Flanges and Slip-fit as needed.
Standard materials of construction are 14 GA. up thru ¾" plate Carbon Steel, MIG Welded; Or will also furnish: Aluminized Steel, 304, 321 or 409 Grade Stainless Steel grades. Internally Insulated designs are also available. Standard designs are offered in Cylindrical Industrial thru Extreme Grade, Compact Residential & Critical, Hockey Puck Residential thru Super Critical, Rectangular are available in Industrial up thru Extreme grade of silencing. Will also provide ABS Certified construction for Marine applications, including Industrial up thru Super-Critical Grade Spark Arresting Silencers.
Complete Exhaust Silencer Systems including: Mounting Bands or welded-on Brackets, 321 S.S. Single or (2) Ply Bellows type Flex Connectors with whatever Standard NPT or Flange or Slip-fit connections & Lengths; plus WYE Collectors are available to match Dual Engine Outlet "Spread" and Height C/L's, Custom Removable Exhaust Blankets, Elbows, Rain-caps, Exhaust Thimbles including Insulated @ NFPA #37 can be supplied, for OEM's if needed in complete kit with (1) Kit P/N, on single P.O.