Expansion Joints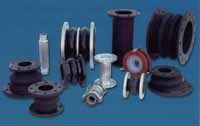 The expansion joints offered are of the type required for marine, pump, compressor and air handling applications.
These expansion joints are available in a variety of sizes, styles and material construction. They can be supplied approved for use by USCG/ABS. Normally, they used to minimize vibration and alignment problems between stationary mounted pipes or ducts and pump, engines, compressors and fans.
Standard designs in both metallic and elastomeric materials are available from the industry's largest stock inventory for same day shipments.