MAJOR ANNOUNCEMENT!!


H. ERTEL INC. is exclusive Sales Representative Co. for Alcad Standby Power in Wisconsin, Illinois and Minnesota with authorization to also assist Interested Companies in Upper Great Lakes Region." Alcad has a Very Wide range of Nickel-Cadmium Batteries, Racks, Enclosures & Chargers.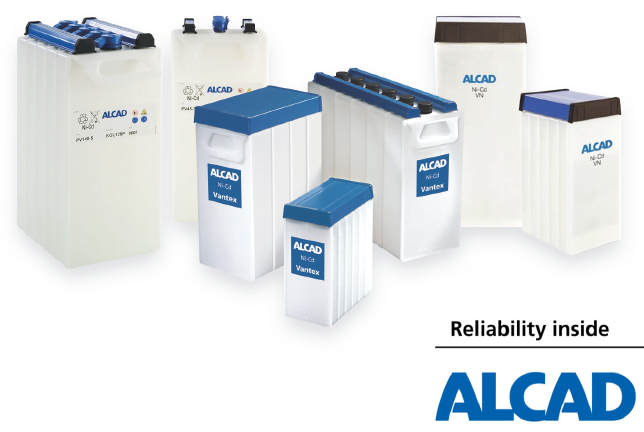 ALCAD

Nickel-Cadmium Batteries & Chargers

Company was originally formed in 1918. ALCAD LTD. Offers an extensive range of Advanced Battery Systems; designed to deliver Power, Safety and Reliability. ALCAD's unrivalled advantages are: Cutting-edge technology products, global reach of services and uncompromising focus on quality.

These include Maximum-life Battery/Rack/Charger Systems with: NICKEL-CADMIUM Single Cell, Pocket Plate for Low, Medium & High Discharge Rates, flame arresting top vent, steel pocket plate structure prevents "Sudden Death†or Internal Corrosion Failures. Very Long Shelf Life, 20+ Years Warranty and typical Life Expectancy. Best Design for High Discharge Engine Starting duty.

VANTEX Maintenance-Free—Perfect Fit replacement for Lead-Acid on Medium & Low Discharge Rate applications like: UPS's, Substation Switch-gear, Process Control Systems, Emergency Lighting, Fire Alarm. 20+ Year Life. Charges at same 1.39 & 1.45 V/Cell as Lead Acid Battery Chargers, Same Size as Lead Acid, Fast Re-charge rate. Minimal servicing required—only preventative maintenance needed.

SLIM Minimum Size, 20+ Year Life Alternative to Lead-Acid VRLA. Maintenance Free, Higher Charger Efficiency, Low Pressure Venting = Lower H20 consumption. Outstanding Energy Density, up to 100 Wh/I. No "Sudden Death†or Thermal Runaways. No Topping Off needed in recommended operating range. Ideal for Railway Signalling, Infrastructure, trackside signals, switches, public safety barriers.

BATTERY CHARGERS, (5) Year Warranty, 12VDC – 130VDC Output, 208V – 600V @ 50 or 60Hz Input; Alarm Assembly with Local LED's + Summary Relay Contact, Float/Equalizer Selector Switch, Input & Output MOV Surge Suppressors, AC Input & DC Output Circuit Breakers, Forced Load Share during parallel operation, Reverse Polarity protection via free-wheeling diodes, Self Diagnostics. CSA, UL, Seismic qualified Cabinet option, ABS or CE certification available.