Exhaust Heat Recovery Units (ESG1's)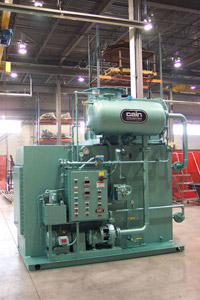 Since our company started in 1974, H. Ertel Inc. has been helping customers increase the efficiency of their engine & turbine-driven generator sets by recovering heat from jacket H20, intercoolers, lube oil and exhaust gas. Cain Industries offers both liquid type (typically ethylene-glycol-H20 or propylene-glycol-H20) and steam generating EHRU's.
These operate in waste exhaust temperatures from 350° F-1900° F.
Fuels: natural gas, landfill gas, bio-gas, #2 & #6 fuel oils and coal
Volume flow rates: 20 – 50,000 SCFM with 300,000,000 BTU/hour input maximum.
For ESG1 steam generating type, Cain offers 48 pre-engineered models with output from 20 – 500 boiler HP and operating steam pressures from 3 – 450 PSIG. On engine exhaust applications, this covers 400KW – 7 MW. All ESG1 are designed, manufactured and stamped in accordance with Section 1 of ASME Boiler and Pressure Vessel Code and National Board.
All ESG1 units include:
Welded or brazed fin tube heat transfer section (H20 tube type) with main inspection door for tube removal and main inspection access port for cleaning and/or inspection, individual serpentine, removable tube rows for ease of cleaning. Reinforced Enclosure With 304 S.S. Baffles and 4″ Minimum Thickness Insulation; Gas-Tight 10 GA. Carbon Steel Shell.
Integral steam flash circulating drum assembly, with 1″ insulation which produces 99% dry steam. Automatic modulating (to maintain constant Steam Discharge Pressure), full port exhaust bypass system with S.S. damper & shaft, with external high temperature bearings and packing glands to minimize leakage.
ANSI standard hot H20 circulating pump w/ TEFC motor & mechanical seal to maintain high H20 flow & minimum fouling.
Main drum Blowdown Valve Assembly, Continuous Surface Blow-Down Valve, H20 Level Control Blowdown Valve—all Manifolded To Single Blowdown Connection.
Safety Controls include: High/Low Level H20 Cutout, Excess Steam Pressure Cutout, Low Air Pressure Cutouts for Pneumatic Exhaust Bypass Actuator, ASME & Nat. Board Stamped Steam Safety Relief valve
H20 Level Control System w. fully modulating Boiler Feedwater Pump level control and valve assembly w/ boiler feedwater on/off auxiliary switch. H20 level Sightglass, Drain cock, Gauges for Steam,
Feedwater, Pump Cooling H20, and Air Indication are provided on Skid-mounted, all inter-piped and valved, Plug & Play Assembly
NEMA 12 Control Panel for (1) Main power connection, with Main Fuse Disconnect and Starter, Fuse-protected stepdown Transformer, Power & Run Indication Lights, Low & High H20 Alarm Lights &
Low Air & Excess Steam Pressure Alarm Lights
All units Hydro-Tested, all components and electrical controls tested Prior to shipment
Can be installed Outdoors with Optional Weather-proof, Insulated Enclosure
Liquid EHRU's, (UTR, UTR1, HRSA, HRSR's)
Liquid type Exhaust Heat Recovery Units are used in Heat Sink types:
Engine Jacket Water, Ethylene-Glycol/H20, Propylene Glycol-H20, Process H20 and Boiler H20. Either full-counterflow, Round HRSA, (15-150 KW), or Rectangular UTR, (15-300 KW), are Ideal for Under Hood or Enclosed, "Low Profile" Engine Exhaust applications.
The HRSA features:
Optional fixed or removable spiral fin-tube bundle for ease of inspection and cleaning
Optional Stainless Steel Shell and/or Internal Insulation
Optional Internal or External Exhaust Bypass, Stainless Steel Diverter Drum
Vertical or Horizontal Condensate Drain
Mounting Brackets for Vertical or Horizontal Installation
Optional ASME Code Stamp
(65) Standard Models
"Residential" 25 dBA level Exhaust Noise Attenuation
Optional compact Circulating Pump for Secondary Liquid Flow System with 1″ NPT Interconnecting Piping to & from Main Liquid Flow loop

The UTR features:

(44) Standard Models with Flexible Exhaust Gas Connections & Sizes
Core Removable without disturbing Exhaust Gas Connections; for

Easy Inspection & Cleaning of Gas & Liquid sides

Optional Exterior Exhaust Gas Bypass & Modulating Actuator Assembly
SA178 Boiler Tubing is standard with .25″ thick high-grade Carbon Steel shell
Optional All Stainless Steel Fin-tubes for applications where Gas exceeds 1250 Deg.F and Liquids are Under 120 Deg.F
Stainless Steel lined Interior w/ 1″, 2″ or 4″ Optional Internal Insulation
Optional 1″ NPT Condensate Drain
Welded-on Handles to assist in Easy Bundle Removal
For applications on medium and high KW or HP engines & processes, Cain Industries offers Great Flexibility; and designs with & w/o Exhaust Bypass, in Vertical or Horizontal configurations, some with Optional Liquid Temperature Control and Manual or Automatic Diverter.
The UTR1 features:
Over (170) Standard Configurations, Highest Heat Transfer, (10 MW), in Minimum Required Space, Optional ASME Code Stamp
"Parallel" piping arrangement for High Liquid Flow vs. "Series" piping arrangement for Lowest flows
Internal Factory Insulation, 2″ – 6″ Thick is Optional
Locatable Above engine or on Floor to fit Least Available Space
Easy Access of Fin-Tube Bundle allows Quick Removal of Finned

Tube Rows or Core Assemblies without Disturbing Exhaust Connections. Makes Inspection & Cleaning Routine to Minimize

Maintenance Cost and Maximize Heat Recovery Efficiency and Profit!

Optional Inspection Door with Welded-on Handles
10 Gauge Carbon Steel Shell, Seam-welded
H-Beam Support Base
Optional 1-1/2″ NPT Condensate Cleanout Drain
¾" NPT Vent and Lifting Lugs are Standard
Fin-tube "Rack-out" Serpentine Rows for Easy Removal

& Handling & Cleaning

Optional Square to Round Exhaust Duct Transition Pieces
Optional, Rotating Soot Blowers, Automatic or Manual
Fin-tube spacings Available from Bare Tube Up thru 8 Fins Per Inch
On Applications where Integral Exhaust Bypass is Needed, the HRSR Is the Most Advantageous, Complete Assembly on the Market—and the Most Versatile.
The HRSR features:
Optional ASME Code Section VIII "U", "UM" "S", National Board Registered, CRN and/or CSA
Single row Tube Configuration for Easiest Cleaning
Integral Exhaust Diverter w/ S.S. Damper Shaft & Blade
Outboard Mounted Bearing to Reduce Temperature, Prolong Life
H-Beam Support with Vertical Configuration Standard for Minimum Foot-print, with standard Lifting Lugs
No Need for Crane, (2) Men for Heavy Bundle Removal to Clean
Modulating Actuator, (optional Pneumatic or Electric)
10 Gauge Thick Carbon Steel Exterior, w/ 304 S.S. Internal Lining
Thermocouple & ¾" Vent
Header Manifold for LOW Liquid Pressure Drop, (< 2 PSI Typical)
Multi-pass, Counter-flow for Highest Efficiency & Performance
Optional Hinged Access Door with Handle for Ease of Fin-tube

Inspection & Removal & Cleaning to Maintain Maximum Heat Recovery and R.O.I.

Optional NEMA 12 Control Panel used with Timed Soot Blower and Liquid Temperature Control
Manual Bypass Adjusting Plate and Arm Assembly to Lock Damper In Desired Position
Optional Horizontal Configuration for Roof-top & Low Profile Applications
Optional Removable "Swagelok" Compression Fittings for Speedy

Withdrawal and Inspection/Cleaning & Re-Installation

Connections Available in Size Required with NPT or Flanged Connections
Capacities up thru 6 MW
No Tube to Tube or tube to Header joint welds are in contact with

Exhaust Gas to minimize potential for vessel failure

Either 80 PSIG Compressed Air or Steam used for Timed Soot Blower
Manual or Programmable Automatic Timed Soot Blower
Optional "Outdoor" Paint Treatment for Installations Indoors & Outdoors in All Climates
Much Lighter & Smaller than Typical "Fire-tube" Bundle type Competitor's Designs which are Subject to Clogging of Tubes & Dramatic Efficiency Loss due to Build-up after relatively short
Operating time—and which could experience Explosion with Loss Of Cooling Fluid
"Industrial Grade" (10-18 dBA) Exhaust Noise Attenuation